How to Prepare for an Advanced Leadership Role in Nursing
Image
As the complexity of healthcare systems continues to grow, competent and visionary leaders are essential for providing effective and efficient care. Whether you aspire to become a nurse executive, a nursing director, or a healthcare administrator, preparing for these leadership positions requires a deliberate and focused approach. 
In this blog, we will explore what makes a good nurse leader, the role of a Doctor of Nursing Practice (DNP) education in preparation, nurse leader competencies, and how to build a strong foundation of knowledge, gain practical experience, develop a professional network, seek mentorship and guidance, and embrace continuous growth and learning.
Understanding the Importance of Advanced Leadership Roles in Nursing
In today's dynamic healthcare landscape, nurses in leadership positions play a vital role in shaping the delivery of patient care, driving quality improvement initiatives and advocating for the profession. Advanced leadership roles, such as nurse executives, nurse managers, and chief nursing officers, require unique skills and nurse leader competencies beyond clinical expertise. 
According to the American Nurses Association (ANA), nurse leaders are responsible for strategic planning, resource allocation, team management, and fostering a culture of excellence within healthcare organizations. They collaborate with interdisciplinary teams, engage in policy development, and influence healthcare policies at local, national, and global levels. 
Advanced nurse leaders serve as catalysts for change, promoting innovation, advancing evidence-based practice, and improving patient outcomes. By championing effective communication, mentorship and professional development, they empower nurses at all levels to prosper and contribute to the advancement of nursing practice. 
How a DNP Education Helps Build Nurse Leader Skills
Pursuing a Doctor of Nursing Practice (DNP) degree, such as Baylor University's Doctor of Nursing Practice - Executive Nurse Leadership (DNP-ENL) program, plays a pivotal role in equipping nurses with the advanced knowledge and nurse leader competencies necessary to excel in leadership roles within the healthcare industry. By delving into the areas of evidence-based practice, organizational leadership, healthcare policy, and population health management, DNP graduates gain a holistic understanding of the healthcare landscape. 
With a strong foundation in advanced clinical practice and leadership principles, DNP-educated nurses are well-positioned to drive transformative changes. The DNP program offered by Baylor University is a prime example of a forward-thinking educational pathway that prepares nursing professionals for leadership positions by nurturing their expertise and equipping them to reach their leadership potential.
6 Ways to Prepare for An Advanced Nurse Leadership Role
Nurses have numerous avenues to enhance their leadership skills and prepare for greater responsibilities in their roles. Each of these pathways contributes to the development of nurse leadership skills. 
1. Recognize Essential Nurse Leader Competencies
Professionals must exhibit the following nurse leader skills to effectively embrace greater leadership opportunities in their current roles or excel in senior healthcare positions:
Effective communication is vital for nurse leaders to convey ideas, build relationships, and collaborate with members of diverse healthcare teams. 
Decision-making and critical thinking skills enable nurse leaders to analyze complex situations, evaluate options, and make informed decisions. 
Analytical thinking and problem-solving skills help nurse leaders identify challenges, develop innovative solutions, and implement effective strategies. 
Evidence-based decision making guides nurse leaders to ensure the provision of high-quality care. 
Cultivating emotional intelligence and self-awareness enables leaders to navigate conflicts, inspire others, and maintain a supportive work environment.
2. Build a Strong Foundation of Knowledge in a DNP Degree
Continued education and professional development are essential for nursing leaders. Staying actively informed by current research, evidence-based practices and emerging trends in healthcare allows leaders to make informed decisions and lead confidently. 
Pursuing a DNP in Executive Nurse Leadership provides an in-depth understanding of healthcare systems, research methodologies, and leadership theories. Specialization in leadership-focused courses like "Resource Attainment and Allocation" or "Creating Excellence in Professional Practice Environments" equips nurses with the knowledge and skills tailored to modern leadership positions.
3. Gain Practical Experience
In addition to knowledge, practical experience is required for aspiring nursing leaders. It's important to seek leadership opportunities within clinical settings, such as charge nurse roles or unit manager positions, to gain hands-on experience in managing teams and making operational decisions. 
Mentoring and precepting roles allow leaders to guide and develop future nurses, fostering a culture of growth and excellence. Involvement in quality improvement initiatives provides opportunities to implement evidence-based practices and drive positive change. 
Participating in professional nursing organizations such as the American Organization for Nursing Leadership, American Hospital Association or the American Nurses Association, joining leadership committees, and engaging in networking opportunities also enhance leadership skills and expand professional connections. Practical experience complements theoretical knowledge, preparing nurses with the advanced skills needed to enter leadership roles.
4. Develop a Professional Network
Networking plays a crucial role in advancing a nursing leadership career. Building relationships with colleagues, mentors and industry professionals opens doors to new opportunities, collaborations, and support. Attending conferences, workshops and professional events allows leaders to connect with like-minded individuals, share experiences and stay abreast of industry trends. 
Joining nursing associations and organizations also provides access to resources, leadership development programs and networking opportunities. By cultivating a professional network, your visibility is enhanced in the nursing community, which can increase the likelihood of finding mentorship and guidance opportunities.
5. Seek Mentorship and Guidance
Mentorship is invaluable in preparing for advanced nursing leadership roles. Nurses can seek out experienced leaders who provide guidance, advice, and support throughout their professional journey. 
A mentor can offer insights, share their experiences, and help navigate the challenges and opportunities that arise in leadership positions. Establishing a mentor-mentee relationship fosters personal and professional growth, helps to build confidence, and provides a sounding board for ideas and decisions. 
Be proactive in seeking mentorship and be open to learning from those who have already walked the path you aspire to walk.
6. Embrace Continuous Growth and Learning
Stay curious and remain open to new ideas, perspectives, and approaches to nurse leadership. Nurses must engage in self-reflection, seeking opportunities for self-improvement and personal development. 
Nurses can also attend workshops, seminars and webinars that enhance nurse leadership skills, expand knowledge, and provide opportunities for self-assessment. Embrace feedback and constructive criticism as opportunities for growth. 
By continuously honing your nurse leader competencies and expanding your knowledge base, you can ensure that you are well-prepared for the challenges and responsibilities of advanced nursing leadership roles.
Image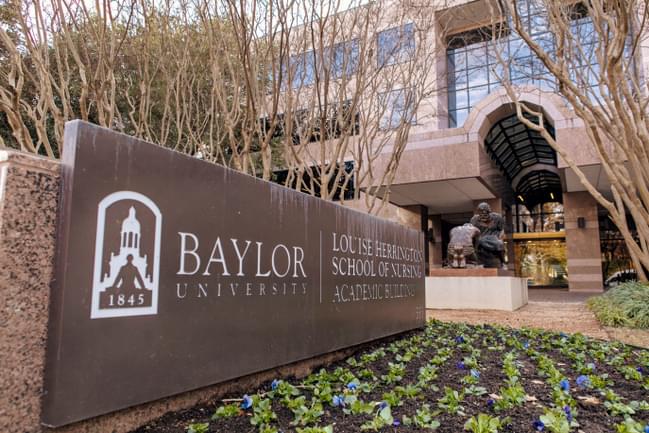 Reshape Leadership in Healthcare as a Baylor Nurse
Remember, the path to advanced nursing leadership is one of continuous improvement and lifelong learning. Take proactive steps today and embrace the opportunities that lie ahead. You have the power to significantly impact healthcare and shape the future of nursing leadership, and Baylor University can help support you every step of the way.
Baylor University offers one of the most reputable online DNP programs available so that you can reap the benefits, including:
Join one of the fastest-growing industries: Employment of medical and health services managers is projected to grow 28 percent from 2021 to 2031.
Increase your earning potential: The average salary for a nurse executive is $92,054.
Use new skills to tap into the limitless potential of data analytics and improve outcomes.
Gain a thorough understanding of business and healthcare models to prioritize patient care.
Harness out-of-control costs to providers and patients, contributing to cost containment efforts.
Baylor DNP graduates are prepared as exemplary nursing leaders and visionary nurses who can actively shape and improve patient outcomes, policy, processes, and the future of nursing. Some highlights of the online DNP program include the following:
Dedicated student advisor from registration through graduation day
Choose from one of six online DNP-APRN tracks or DNP Executive Nurse Leadership
Designed for working nurses
The Louise Herrington School of Nursing at Baylor University is also ranked among the best in the nation for its DNP program (U.S. News & World Report)
With world-renowned faculty and built-in support, Baylor's online DNP program prepares students to thrive in the real world. 
For more information, get your free DNP program guide today.