Why Baylor University Online Nursing Programs?
At Baylor University, we are committed to the ideals of servant leadership and have made it our mission to educate nurses for worldwide leadership and service by integrating academic excellence and Christian commitment in a caring community. Our distinguished reputation at Baylor's Louise Herrington School of Nursing exemplifies our motto: Learn.Lead.Serve.® and is appreciated by patients, employers and the community. We are also guided by Baylor's strategic vision called Pro Futuris that reminds us: our past is inextricably linked to our future and that responsibility to God and to the world continues to lead us. During the last 111 years, LHSON has educated more than 6,000 graduates who are academically, spiritually, and personally prepared for leadership as a nurse.
Clinical Placement Support
Baylor University's Louise Herrington School of Nursing believes you are only as successful as your training. That's why we will collaborate with you to identify and secure a quality placement site and preceptor for clinical rotations. This enables you to focus on coursework and developing core competencies rather than spending a significant amount of time on the logistics of clinical placements. However, if you already have a placement site or preceptor in mind, students are encouraged to refer them to the placement team to secure. 
Additionally, you may find clinical placement sites to be potential locations for future employment opportunities upon graduation. Learn more about Baylor's Clinical Placement Services here.
World-Renowned Faculty
At the heart of our school is an exceptional faculty, each and everyone committed to the success of our students. They are a unique group: researchers, authors, winners of countless national awards, presidents of national organizations, former missionaries and administrators, and experts in their specialties. They are always accessible and always focused on the needs of their students. They are there to advise, act as role models, and encourage and guide students throughout their education and beyond. Learn more about Baylor's renowned nursing faculty here.
Image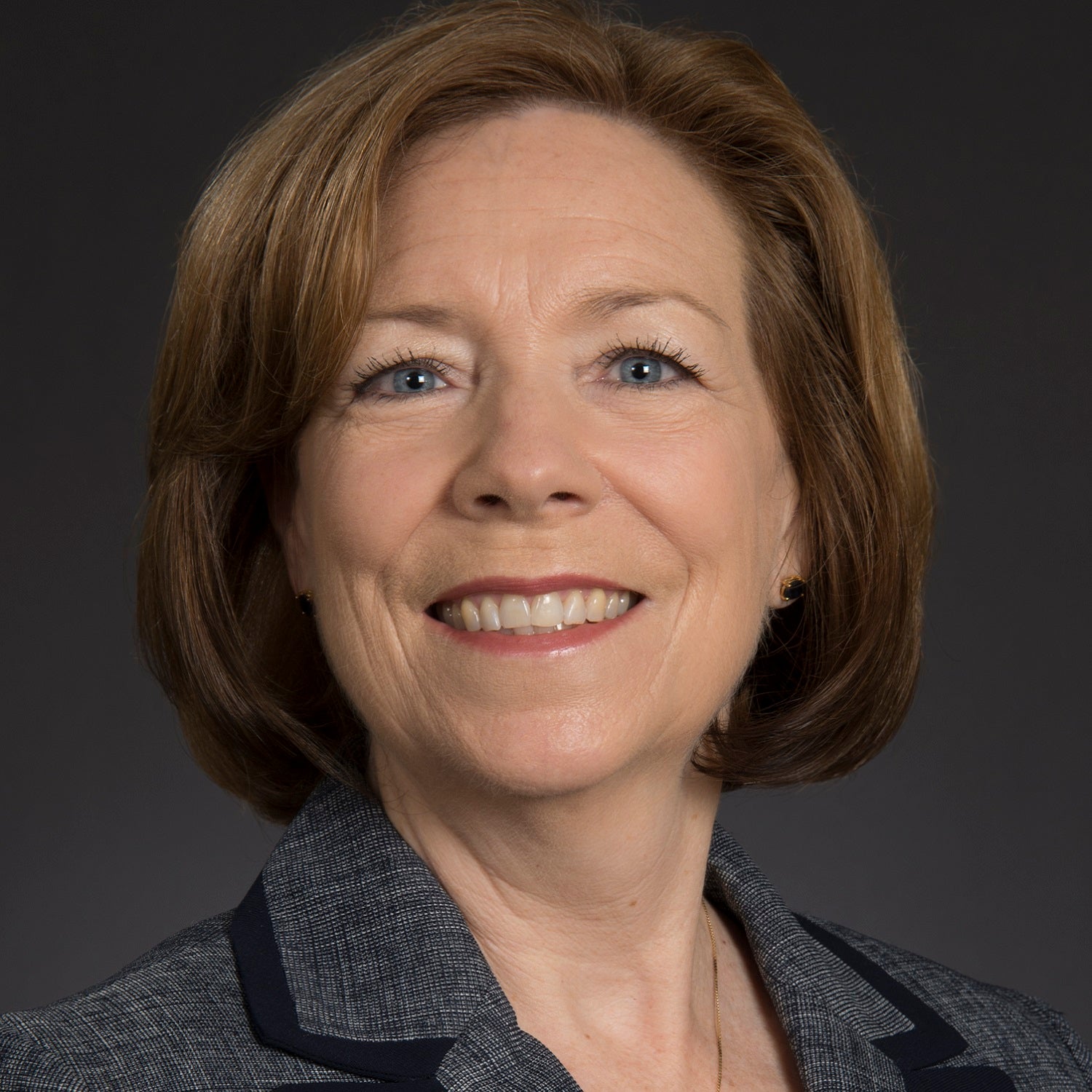 "We think you will find our school is unlike any other in that we truly do consider ourselves as called to prepare nurses through the integration of faith and excellent academics. From the adventure of the mission field to an exciting student life and innovative classroom experience, you will find your life changed in ways you never expected here at Baylor".
-Linda Plank, PhD, RN, NEA-BC
Dean and Clinical Associate Professor
Why Choose the Doctor of Nursing Practice (DNP)?
Across the nation, the standards for nursing practice are evolving. In 2004, the American Association of Colleges of Nursing (AACN) recommended that the standard for advanced nursing practice education be moved to the doctoral level. The Baylor University online Doctor of Nursing program represents the evolution of advanced practice nursing education. The increasing complexity of patient care, national concerns about the quality of care, and a shortage of qualified personnel are driving the demand for doctorally prepared nurses.
As graduates of the online DNP programs, Baylor Nurses possess greater competence in the assessment as well as heightened knowledge of pathophysiology, pharmacology, and epidemiology in their chosen area of practice. They also have a deep understanding of policy, ethics, scientific inquiry, research, and servant leadership. This holistic competence means Baylor nurses are prepared to drive change, innovate and become exemplary nursing leaders.
What The Baylor Online DNP Means To Me -- Lucinda Bush
About Us
Established in 1845, Baylor University is Texas' oldest continuously operating institution of higher learning. With more than 170 years of educational excellence, Baylor University is a nationally recognized and respected institution. We have been named:
Doctor of Nursing Practice (DNP) ranked in the top 10% (U.S. News & World Report – Best Graduate Programs – 2022)
#21 Best Nursing-Midwifery Programs – (U.S. News & World Report – 2022)
#76 in National Universities (U.S. News & World Report-2021)
Image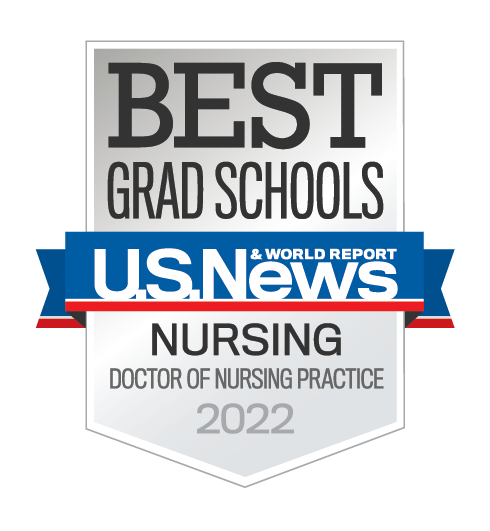 U.S. News & World Report
---
Featured in U.S. News & World Report for the 2022 Best Nursing Schools, ranking our DNP in the Top 10%.
Image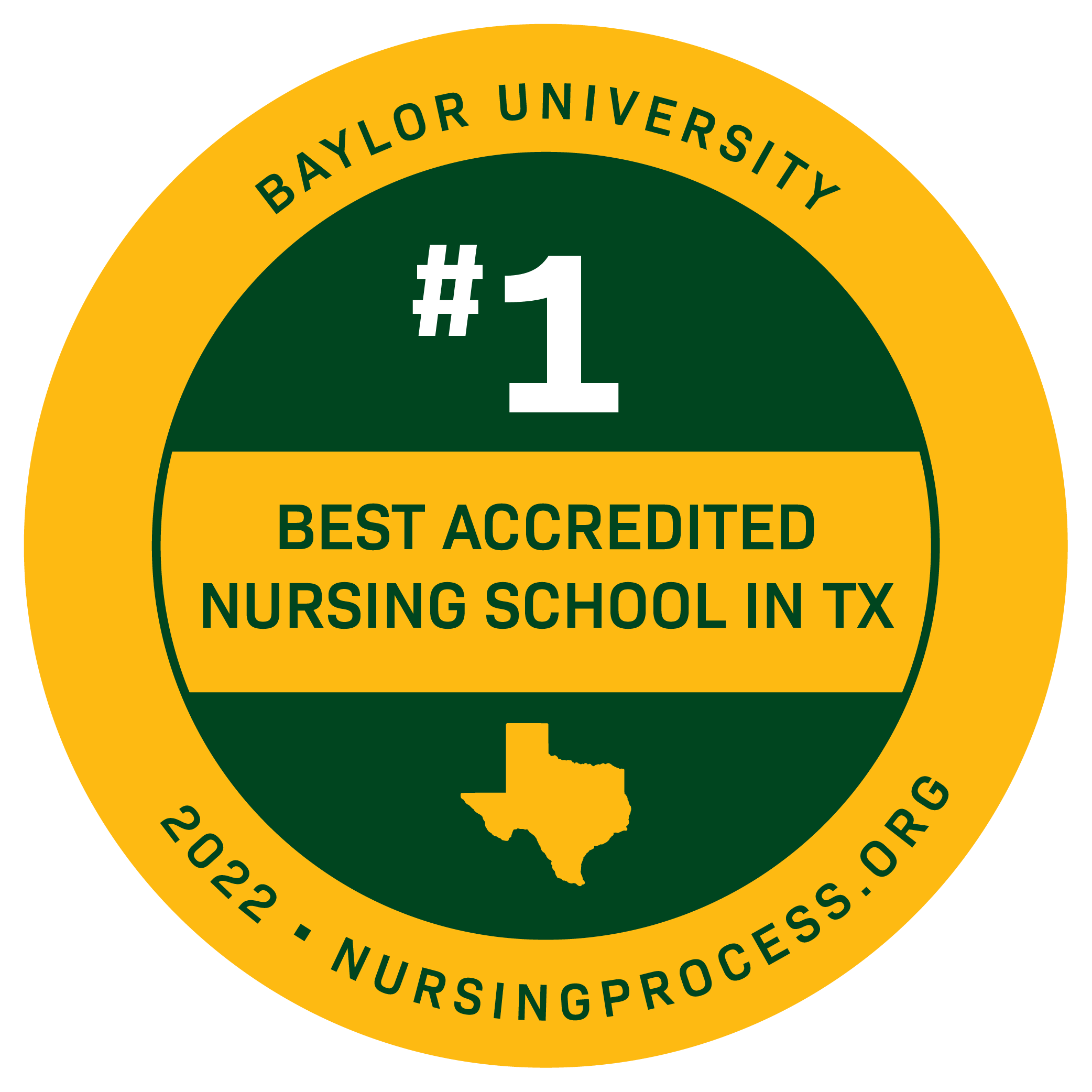 #1 Nursing College in Texas
---
Nursingprocess.org ranked Baylor as the #1 Best Nursing School in Texas.
Image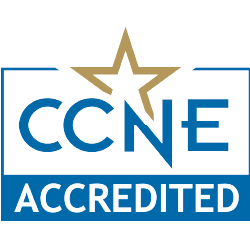 CCNE
---
We rigorously adhere to the accreditation standards established by the Commission on Collegiate Nursing Education (CCNE)**.