Distance Accelerated Bachelor of Science in Nursing
[em]Distance[/em] Accelerated Bachelor of Science in Nursing
The Baylor Distance ABSN program is currently designed for students residing in Texas, but outside the DFW metro area. Students who reside within Dallas, Tarrant, Collin, & Rockwall counties should apply for the on-campus accelerated FastBacc® program at the Louise Herrington School of Nursing in Dallas.
Celebrating Future Nurses Everywhere
The pandemic has shined a light on how desperately our country needs nurses. During unprecedented times, many second-career nurses chose to pivot into nursing to answer the call of their communities. This Nurses Month, we honor those who have stepped up to start their journey as educated, skilled healthcare professionals.
Baylor would like to offer our heartfelt thanks to the nurse of tomorrow–you will touch countless lives, making the future bright. 
Align Your Knowledge and Skills to a More Fulfilling Career
The post-baccalaureate accelerated BSN program at Baylor University's Louise Herrington School of Nursing is an intensive full-time program with a combination of teaching methodologies including on-line courses, clinical and lab experiences, and hybrid interactive learning courses.
Students with a completed bachelor's degree in a non-nursing discipline will complete 62 hours of nursing course work and stand out as a Baylor nurse:
Program completion in 45 weeks

Gain clinical experience working with underserved communities

Benefit from strong academics and a well-earned reputation

Learn nursing through a Christian worldview

Change your life and the lives of others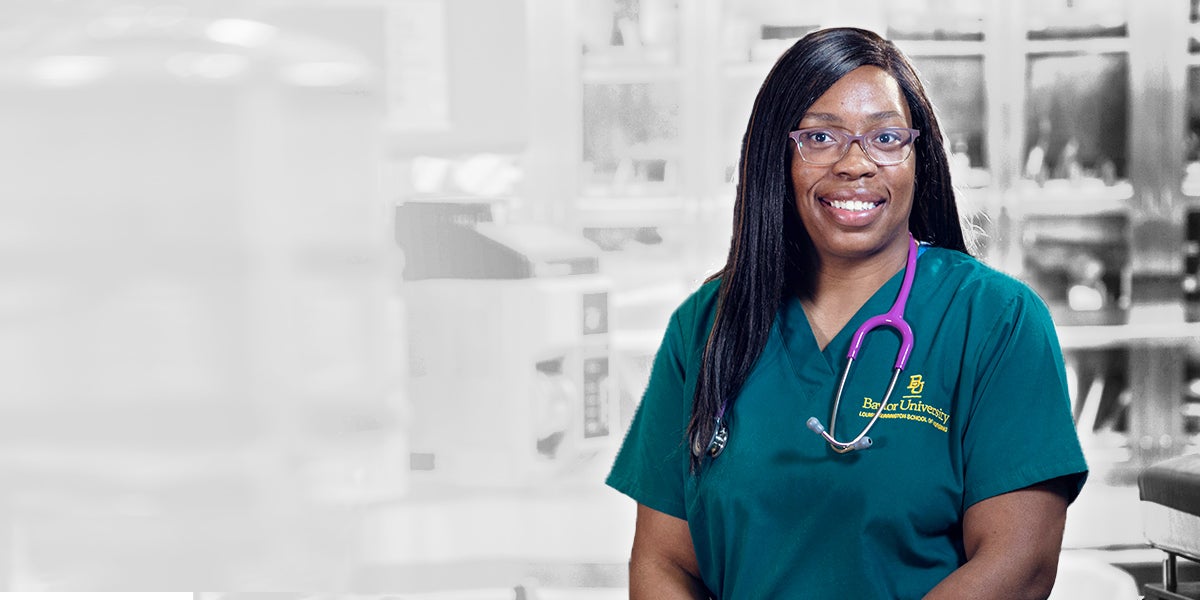 Program Features At-A-Glance
Earn your Bachelor of Nursing degree from the Louise Herrington School of Nursing, ranked #25 for Most Innovative Schools

Main coursework is online with one 2-week, on-campus visit followed by clinicals in the field

Practicum requirement total: 720 hours 

Courses range from 3 to 10 weeks in length, with 2 admission intakes per year

Students learn from nationally recognized faculty

Clinical Placement Services for students

Total credits: 62
Admissions Requirements At-A-Glance
Completed bachelor's degree in any non-nursing discipline

52 pre-req credits must be completed before start

3.0 GPA on pre-req courses, 2.75 GPA on science pre-req courses

HESI Exam


 
Clinical Placements Provided
At Baylor University's Louise Herrington School of Nursing, we strongly believe in setting our online ABSN students up for success. That's why we will collaborate with you to identify clinical sites and preceptors for clinical rotations. Additionally, clinical placement sites may be potential locations for future employment opportunities upon graduation. If you already have a placement site or preceptor in mind, we encourage you to refer them to our placement team to secure. 
Online Accelerated BSN Curriculum At-A-Glance
NUR 3212 - Professional Development: Foundations for Practice
Introduces the role of the professional nurse as a member of the interprofessional healthcare team through concepts such as the nursing process, standards of practice, and philosophy of nursing from a current and historical perspective. Critical thinking, therapeutic communication, and caring are also introduced as tools to enhance the nurse-patient relationship.
NUR 3330 - Introduction to Professional Nursing Practice
An introduction to the concepts of professional nursing practice, emphasizing the establishment of the nurse-patient relationship, application of the nursing process, and development of psychomotor skills.
NUR 4338 - Analysis and Synthesis of Complex Human Needs
This course provides a critical analysis of individuals with multiple and complex problems and the effects of those problems on families and groups. A case-study/discussion format will be used to integrate physiological and spiritual needs across levels of care and across the lifespan.
Baylor Nursing By The Numbers
96% first-time NCLEX pass rate in 2020
90% of nursing students receive a job offer at time of graduation.
90% of clinical sites provided to ABSN students were within 125 miles of their home .
Baylor University is ranked higher than 94% of Best Colleges in the Nation in 2021 - U.S. News & World Report.
A Need for Nurses
There's an RN shortage in Texas because of the baby boomer generation needing more care, current RNs moving into retirement, and health care reform. The need for nurses has never been greater. Here are some stats in relation to the RN shortage:
1 million RNs will retire by 2030

Texas has the 2

nd

largest RN shortage in the nation

17% of Texans lack health insurance

Demand for nurses is projected to grow 12% through 2028
Emerge as a Skilled Nurse with Baylor's Distance ABSN program
Through the Louise Herrington School of Nursing's Distance ABSN program – an immersive,  accelerated BSN online program designed for bachelor's degree holders – you can prepare for a rewarding career in nursing in under 1 year. Here's what you'll learn:
Elements of Professional Nursing

—understand concepts of professional nursing and the role of the nurse as a member of an interprofessional healthcare team.

The Human Needs Framework

—master key elements of nursing practice as it pertains to care of patients and families with a diverse range of needs.

Clinical Competencies

—plan and deliver nursing care for individuals and families at different stages of life – including babies, children, adolescents, adults, and the elderly – with health issues of varying complexity.

Healthcare Issues and Policy

—understand the current issues and factors shaping healthcare on a national and global level and how they impact diverse cultures and communities.
Hear What Our Students Say
Sariah Turner shares her personal experience as a student in Baylor's Distance ABSN program in this short video testimonial, below. Hear from other students here.
Accelerated BSN Nursing Program Prerequisites
Here are the prerequisites needed before you can start your ABSN program:
Microbiology

Anatomy & Physiology I

Anatomy & Physiology II

Chemistry

English Composition I

English Composition II

English Literature

Federal Government

Bible-based Religion

World Religion

History 

Nutrition

Statistics 

Intro to Psychology

Developmental Psychology

Intro to Sociology