Nursing Career Outlook in Texas
Image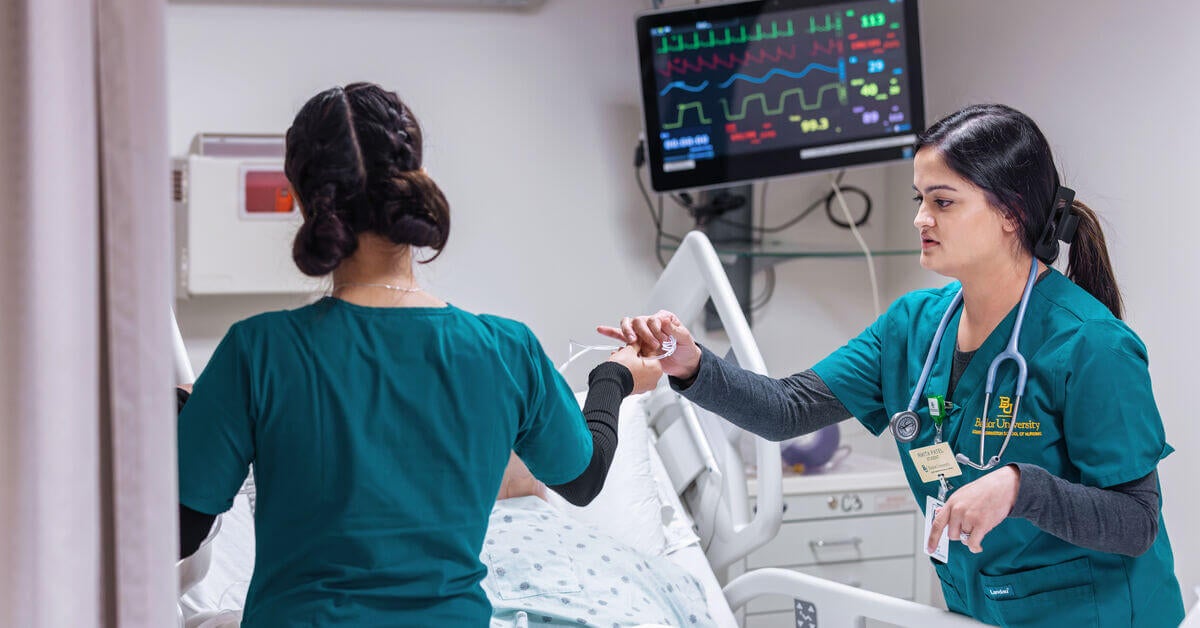 It seems the job outlook for nurses is being discussed everywhere from the news to the halls of government.
"Texas needs nurses now more than ever," reads one headline.
"Texas nurses join call for congress to address root causes of nursing shortage,"proclaims another.
Aspiring nurses—both recent college grads and working professionals considering a career change—may be wondering whether the national nursing career outlook is consistent with the job outlook for nurses in Texas. In short, the answer is yes, but let's take a look at the numbers.
Learn more about Baylor University's Distance ABSN program
National Nursing Career Outlook
According to the Bureau of Labor Statistics (BLS), the registered nurse (RNs) workforce is anticipated to grow 12% from 2018 to 2028. This pace is more than double the 5% national average for all professions. 
The BLS equates this growth to approximately 511,500 new nurse jobs. This growth is due to a combination of factors, including:
An aging RN workforce that will soon be retiring
An aging population that will need more healthcare
A shortage of nursing faculty to prepare new RNs to enter the field
While the number of nursing teachers may change over the next decade, nothing can stop the wave of aging Americans that is eclipsing the workforce and the healthcare system — effectively solidifying the need for more nurses.
Nursing Job Demand in Texas
The Texas Department of State Health Services projects the number of nurses needed in Texas to quadruple from 2015 to 2030 with an expected shortfall of nearly 60,000 RNs. Based on these calculations, Texas will account for almost 12% of the national demand for new nurses — even though the population of Texas makes up less than 9% of the total U.S. population. Texas is the 2nd state with the most severe nursing shortage. 
Texas Nursing Job Compensation
Texas has the second-largest RN workforce in the country. Nurses in Texas earn a statewide average annual wage of $76,800, higher than the national median annual wage of $75,330. The average yearly salary for RNs jumps to $84,960 in the Houston area. 
Nurse salaries have been increasing at faster and faster rates for the last few years, primarily as the nursing job demand increases and healthcare employers must compete for a limited pool of candidates. In the first nine months of 2021, the Advisory Board notes that average RN wages grew by 4%. 
With a strong job outlook for nurses and positive wage projections, the RN profession provides a great return on educational investment. It is a destination for those seeking a secure career change.
Fast-growing Texas Nursing Jobs
While RNs generally enjoy great job prospects, certain nursing specialties are notably fast-growing with impressive compensation. Here are five specialties with a bright job outlook for nurses:
Learn more about Baylor's Distance ABSN program
Why Become a Nurse in Texas
The job outlook for nurses in Texas is strong, but there are many additional reasons to become a nurse in the Lonestar state. Nursing is a rewarding career that provides immediate and long-term satisfaction. With every patient you interact with as a nurse, you have the opportunity to see how your skills and compassion can benefit the health and wellbeing of the most vulnerable individuals in your community.
Nursing also provides a wide array of career paths, both in practical and administration and leadership. Depending on your personal goals and interests, you can use your foundation as a nurse and continue your nursing education to become a future nurse practitioner, executive nurse leader, nursing professor, or healthcare policy advocate, to name a few. 
How to Become a Nurse in Texas
There are several ways to become a nurse in Texas. For bachelor's degree holders with no nursing experience, the accelerated bachelor's degree in nursing (ABSN) is an ideal choice for those who wish to fast-track their nursing career. ABSN students can complete their program in about one year. Non-bachelor's degree holders can choose to pursue an associate's degree in nursing (ADN) or a bachelor's degree in nursing (BSN) from an accredited nursing school. 
Major nursing accreditation bodies accredit nursing schools:
Although all of the above organizations can accredit nursing schools, the CCNE and ACEN are highly respected among nursing employers.
Having a bachelor's degree is an excellent professional foundation for a nurse. Recent research by the Joint Commission to quantify the impact of nurse education found, "baccalaureate-prepared RNs reported being significantly better prepared than associate degree nurses on 12 out of 16 areas related to quality and safety, including evidence-based practice, data analysis, and project implementation."
Advancing to a role such as a nurse practitioner or a nursing leadership role requires a master's or doctoral degree. Those advanced positions will require candidates to complete a bachelor's degree, so earning a BSN can give nursing students a platform to pursue many different career paths after graduation.
After completing their education, aspiring nurses in Texas must apply to the Texas Board of Nursing to take the National Council Licensure Examination for RNs (NCLEX-RN) and pass the exam. Once you pass this exam, you are considered a licensed RN, and you must renew your license periodically.
Learn more about Baylor University's Distance ABSN program
Ready to Take the First Step?
If you're ready to join the ranks of Texas nurses and help bridge gaps in healthcare, consider the Distance Accelerated Bachelor of Science in Nursing program (ABSN) at Baylor University. Designed for those looking for a career change with a bachelor-degree in a non-related field, the distance ABSN program can be completed in 45 weeks, and the majority of the coursework is online. Students are aided in their clinical placement to transition from the classroom to clinical practice.
Baylor University teaches nursing students how to learn, lead, and serve by giving them the necessary tools to launch their nursing careers. Nursing students are set up for success in the following ways:
Baylor's Louise Herrington School of Nursing provides clinical placement support for ABSN students.
Baylor University is internationally recognized for educational excellence and for having a faculty committed to teaching and scholarship.
Baylor University's online nursing programs are CCNE-accredited
Baylor University offers students an exceptional education. Boasting nearly 96% first-time pass rates for the NCLEX, Baylor prepares nurses who receive job offers at graduation 90% of the time. See what Baylor's ABSN can offer you.
Transform your career and contribute to the future of nursing at Baylor University. Click here to download your free Distance ABSN brochure today.