Nursing As a Second Career: How to Prepare for Nursing School
Image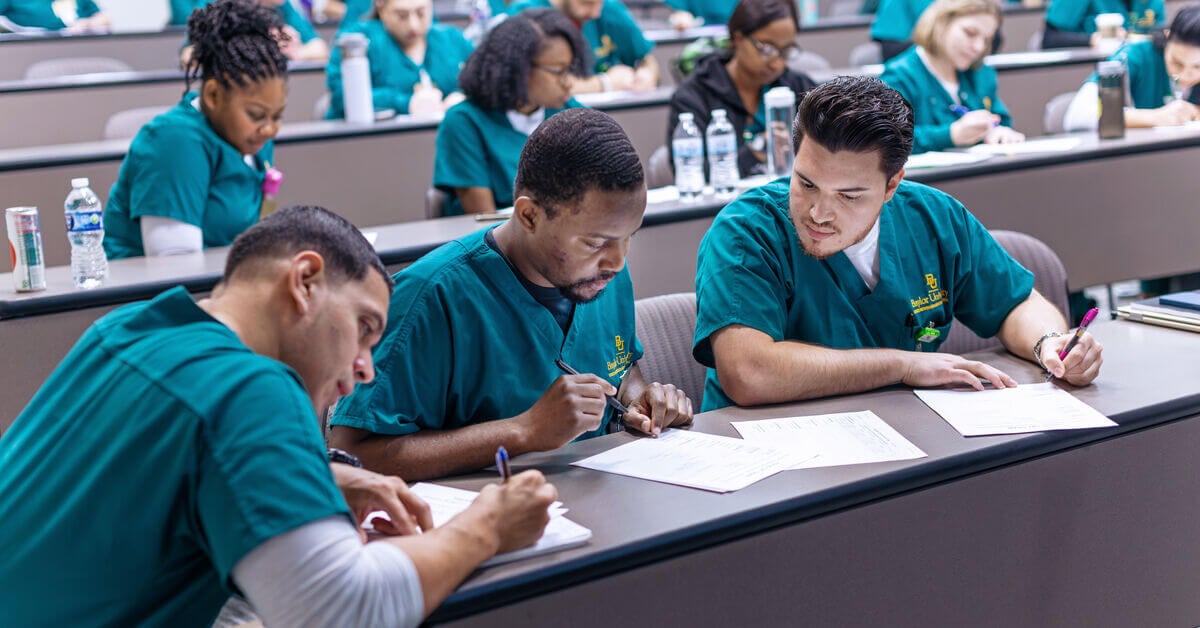 If you're interested in a second career as a nurse, you may wonder how to prepare for nursing school. Many professionals transition to nursing because they feel called to help people. Realizing their passion, they change their own lives to heal others.
Those who've already earned a bachelor's degree can quickly become a nurse in an accelerated Bachelor of Science in Nursing program (ABSN). Rigorous yet life changing, ABSN programs bring new challenges. Students will feel more confident entering the program if they are prepared.
Keep reading to learn five strategies for preparing for nursing school.
1. Know Your Purpose
Having an intention for starting a new career is vital for success in nursing school. Second-career nurses share similar goals, like helping others and achieving greater job satisfaction. Whatever your purpose, keeping it top of mind will strengthen your motivation and resilience.
Helping People
Many people enter nursing because they feel called to help others. Second-career nurses are often passionate about serving their communities, especially vulnerable populations.
Personal experience with nursing also inspires the call to help others. Some second-career nurses have received nursing care through their own experiences or that of a loved one. Others have friends or family members who are nurses. These personal accounts can grow a deep respect for nursing, inspiring people to transition into the profession.
Growing Job Satisfaction
Many second-career nurses enter the profession to gain more job satisfaction. Nursing can be personally fulfilling because it feels good to help others. It has professional benefits, too.
Nurses have high earning potential. In the U.S., half of registered nurses (RNs) earn over $81,220 annually. The top quarter earns over $101,100.
A nursing career also comes with a positive employment outlook. The demand for nurses is rising because there is an increased need for healthcare services among the growing aging population. Nurse retirements are also rising.
Between 2021 and 2031, RN employment is expected to grow by 6%. That's equivalent to approximately 203,200 average annual job openings. In Texas, the job outlook is even brighter. RNs can expect 17% employment growth between 2020 and 2030, almost three times higher than the national average.
2. Understand ABSN Program Expectations
Another tip for how to prepare for nursing school is to understand the rigor of ABSN programs.
ABSN programs take significantly less time than traditional BSN programs. Students can earn a traditional BSN in four years and an ABSN in 11 to 18 months. For example, Baylor University's Distance ABSN program takes just under 12 months.
ABSN programs are faster for two main reasons. One is the schedule. ABSN students attend full-time without breaks between semesters.
Another reason is that students already have a minimum of a bachelor's degree in a non-nursing discipline. As a result, they can focus solely on developing their nursing knowledge and skills, building on their previous education. Students learn exactly the same competencies as traditional BSN students but start their nursing careers earlier. 
Students who are determined, flexible, and passionate about nursing are best prepared to thrive in ABSN programs.
Read about how faculty describes the ideal Baylor ABSN student
3. Choose a Supportive Program
Exceptional nursing schools will empower you to succeed during your education and after. So choosing the right program is another way to get ready for nursing school. Licensure preparation and clinical placement services are indicators of a supportive nursing program.
Licensure Preparation
One aspect of becoming a nurse that people often worry about is their licensure exam. Nursing school graduates must pass the National Council Licensure Examination (NCLEX) to become RNs.
Some nursing programs have specific NCLEX preparation. For example, Baylor University's Distance ABSN program incorporates NCLEX preparation into the curriculum. The program is also fully immersive, which prepares students for real-world practice. In 2021, Baylor nursing students achieved a 96% first-time NCLEX pass rate.
Clinical Placement Services
Clinical placement services will also support your nursing school success.
Nursing education involves clinical rotations, which are hands-on nursing experiences. Clinicals occur under the supervision of an experienced RN called a preceptor.
Securing clinical sites can be tedious and difficult. Without clinical placement support, students could contact hundreds of sites before a preceptor agrees to participate. That's why some nursing programs provide clinical placement support services. 
In the Baylor Distance ABSN program, staff collaborates with students to secure quality placement sites and preceptors. The benefit is that students can focus on their coursework and learning instead of coordinating the logistics of their clinical rotations.
4. Build a Support System
Building a support system is critical in how to prepare for nursing school. You'll need to find the people you can turn to for guidance and encouragement. If you choose the right program, faculty and staff will be central to your support system.
Faculty Support
Faculty experience and engagement make a difference. When faculty bring a significant nursing background and passion for teaching, they can understand your experiences and address your questions and concerns.
At Baylor University's Louise Herrington School of Nursing, the nursing faculty is committed to students' success. They are present to advise, encourage, and guide students throughout their education and beyond. The diverse group includes researchers, authors, national award-winners, and former missionaries.
Knowing you can rely on knowledgeable, supportive faculty will ensure your nursing school success.
Student Success Advisor
Some nursing programs provide student success advisors. Student success advisors are responsible for advising students and providing support as they navigate nursing school.
Baylor nursing students are paired with a student success coach from enrollment through graduation. Some of the ways they support the student experience include:
Advising on students' degree path
Providing guidance and counseling regarding course selection, course load, and nursing school essentials
Assisting during initial orientation
Monitoring progress in class and checking in to discuss any needs
With a student success advisor, you'll have access to the resources you need to successfully complete nursing school.
Learn How to Study in Nursing School
Professionals may find that a nursing education comes with new challenges. Learning how to study in nursing school is often one of them, especially in fast-paced ABSN programs.
Here are three tips for maximizing your study time in nursing school:
Schedule Studying: ABSN programs typically require eight hours or more of daily coursework, clinicals, and studying. So, schedule dedicated study time throughout the week. You may need to assess your current routines and priorities and make temporary adjustments.
Form a Study Group: Studying with peers can make the experience more effective and enjoyable. Study groups help provide motivation, clarity, and guidance. Baylor Distance ABSN students develop close bonds throughout the program and get to connect in person during two on-campus visits.
Avoid Cramming: Research shows cramming is an ineffective study technique. Skip intensive study sessions before exams and study during the days and weeks leading up to them. Studying a bit every day will help you recall during the test.
With the techniques above, you will better manage your studying and nursing school success.
5. Practice Self-Care
Practicing self-care during nursing school will support your learning and well-being.
The emotional, physical, and mental demands of nursing school are similar to those experienced by RNs. By developing healthy self-care habits in nursing school, you can apply them to your future nursing career.
Emotional Self-Care
Nurses must be able to process and cope with their emotions. Maintaining social connections is one of the best ways to do this. Spend quality time with loved ones and classmates outside of school. Other forms of emotional self-care include meditation, mindfulness, and positive self-talk.
Physical Self-Care
To thrive in nursing school, you'll need to nourish your body with a healthy diet, sleep, and exercise routine.
The following habits will help protect your physical well-being:
Diet: Eat a balance of fruits, vegetables, whole grains, dairy, and protein every day. Prepare some meals at the start of the week for ready-made options on busy days.
Sleep: Aim to sleep at least seven hours every night. Also, practice good sleep habits, like avoiding electronic devices before bedtime.
Exercise: Get physically active for at least 150 minutes weekly to reduce stress and improve cognitive function. That's approximately 20 minutes per day.
Mental Self-Care
Taking care of your emotional well-being and body also supports your mental health. But there are many other forms of mental self-care, including:
Making time for activities you enjoy
Taking a break from electronic devices and social media
Spending time outdoors—consider listening to lectures outside
Speaking with a mental health counselor if you think you need professional support
Good mental health will support your happiness, health, and ability to cope with the ups and downs of nursing school.
Prepare for Nursing School and Beyond with Baylor
Baylor's Distance ABSN program provides a supportive and accelerated pathway to becoming a nurse. This intensive full-time program is designed for professionals with a bachelor's degree in a non-nursing discipline.
Students learn from nationally recognized faculty, benefit from strong academics and a well-earned reputation, gain clinical experience, and study nursing through a Christian worldview.

Ready to fulfill your calling as a nurse? Take the first step and get your program brochure.