Why More People Are Choosing Nursing As A Second Career
Image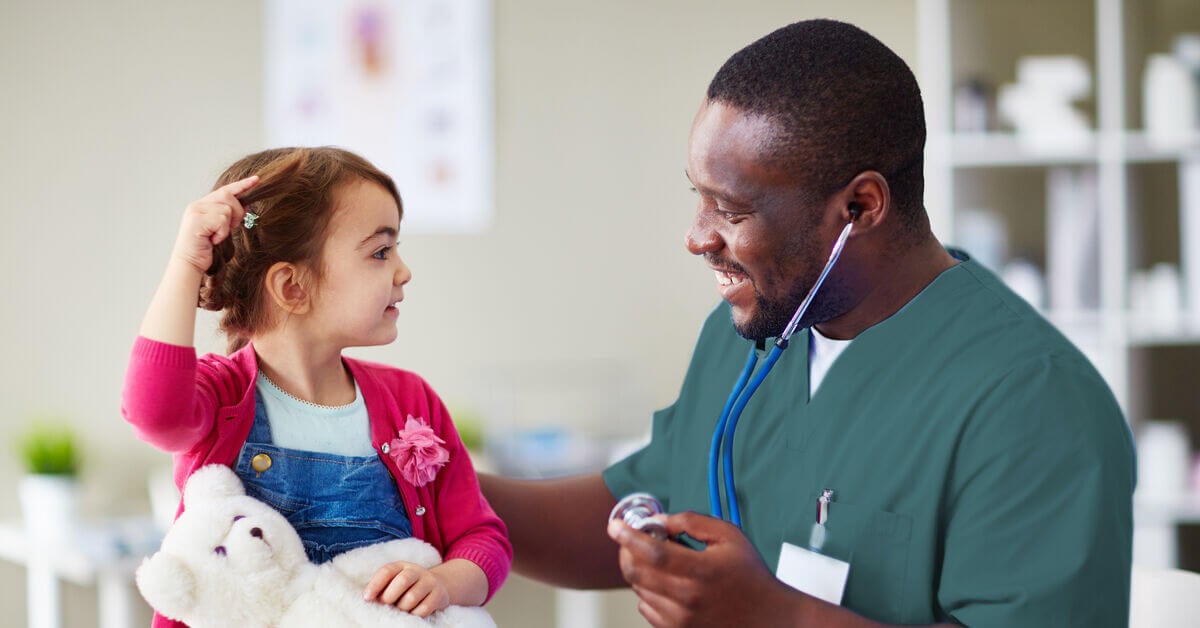 Often, your bachelor's degree is decided upon your interests, skills and needs of the workforce at the time. These factors evolve as you complete your education and start your career. Over time, your degree may not be as in-demand as it once was, or maybe your interests changed, and your work no longer fulfills you. 
Many people choose a nursing career because it is personally rewarding. In today's dynamic world, the need for compassionate nurses is more evident than ever. 
If you're thinking about making the switch to nursing, there are a lot of factors to consider. Read on to learn why more people are choosing nursing as a second career.
Commonly Asked Questions for Second-Career Nurses
Is nursing a good career for me?
Are you passionate about serving your community and interacting with people daily? 
Whether you're a 20-year-old recent graduate or a 40-year-old professional seeking a new career path, making the move to nursing can give you a world of opportunity.
The healthcare workforce is currently facing a number of challenges, including:
The aging population of the baby boomer generation
The mass retirement of registered nurses (RNs)
The increasing shortage of physicians
Fewer RNs are working in rural areas than in the past
As a result of these factors, nurses are critically needed. Nursing might be a good fit for you if you feel called to help others and make a widespread difference.
Image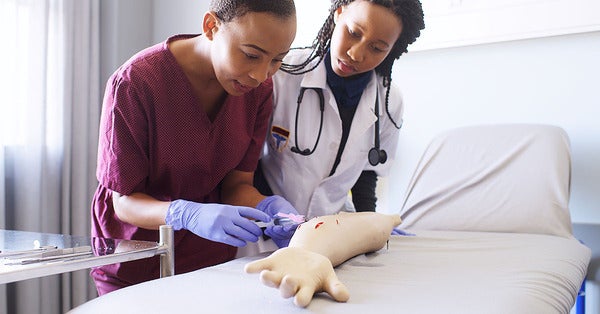 Learn more about Baylor's Distance ABSN program
What should I expect from a nursing career?
Nursing is a well-suited option if you're looking for a fulfilling career path that provides a valuable service for others. When you start working as an RN, you should expect the following:
An opportunity to make a real difference in people's lives and give back to your community by becoming part of the solution to a nationwide RN shortage
A variety of career opportunities in areas like executive nurse leadership, family nurse practitioner, nurse midwifery, or pediatric nursing, to name a few
A chance to apply unique soft skills like empathy, communication and a desire to be there for patients 
The Bureau of Labor Statistics projects a 6% job growth rate for registered nurses (RNs) over the next decade. These projections also indicate job stability–nurses are in demand consistently throughout the US. 
Where can I start my career in nursing?
Registered nurses are in demand across the United States; however, Texas has the second-largest RN shortage in the nation. 
Additionally, a selection of rural areas shows a high demand for RNs. Rural regions of Texas are in desperate need of RNs, and millions of residents have felt the effects of this shortage. 
If you're looking to pursue a rewarding future in nursing, you can expect the following:
Fulfill a large need for skilled professionals in the US, especially in southern or rural states
A low unemployment rate due to high job demand
Job opportunities shortly after completing your nursing education
Job security knowing that your skills are valued and will continue to be needed
Learn more about Baylor's Distance ABSN program
Image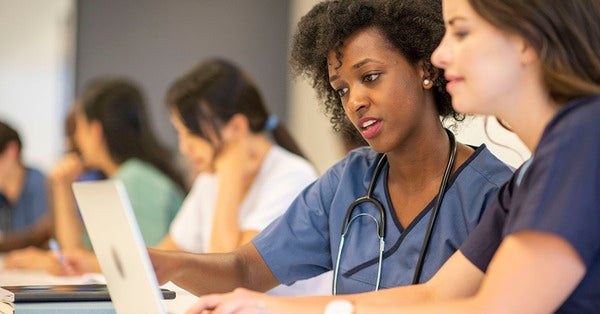 Is it possible to become a nurse later in life?
Yes, you can–you're never too old to become a nurse! It's a great choice at any stage of your life if you're looking for a challenging, demanding role that allows you to use your talents and skills to help people every day.
Those who enter nursing later in life may bring many experiences, including strong interpersonal communication skills, critical thinking, and effective problem-solving. Many second-career nurses can leverage prior experiences that complement RN work values.
O*Net Online shows that some essential nursing values include working in a team environment, offering support, and maintaining a desire to achieve.
What skills do I need to be successful as a nurse?
It would help if you had a combination of soft and hard skills to excel in a nursing career. Students should enter the ABSN program with the following:
Adequate communication skills;
basic professionalism;
critical thinking and problem-solving skills. 
These soft skills will be applied in your ABSN program and also serve as a foundation as you develop hard skills in a clinical setting. Students should also be mindful of their reasons to become a nurse. Successful nursing students tend to be motivated by:
A desire to make a difference in people's lives;
improve career satisfaction;
create a positive job outlook;
and learn new skills. 
Do I need an education in healthcare to become a second-career nurse?
No. Students switching to nursing come from diverse educational backgrounds ranging from health-related programs to the arts and humanities. Students with no experience in health care can still translate their talents and leverage their learned experience to excel. 
A study of second-career nurses showed various age groups, educational backgrounds, and motivations for individuals to enter nursing. 
Only 17% of second-career RNs come from a background in health care.
The remaining 83% of bachelor's degree disciplines include business, engineering, education, science, public administration, and social sciences.
Many second-career nurses bring diverse skill sets that help further the profession and enrich nursing.
Learn more about Baylor's Distance ABSN program
Image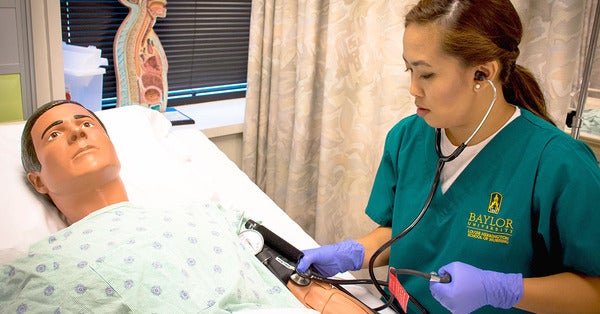 How fast can I get a nursing degree?
Baylor University's online Accelerated Bachelor of Science in Nursing (ABSN) program lets you become a nurse in just one year. The ABSN program is robust and streamlined, allowing students to quickly transition to their new career while they complete coursework online with one 2-week, on-campus clinical skills visit. 
Ebony Crawford, an online ABSN student and mother of three, touches on why a fast-track nursing degree was important to her. "I just had it in my mind, one and done–get it done and over with… that short period of time is what drew me to it." 
What does it look like to enroll in an ABSN program? 
Many schools now offer accelerated BSN programs online, making transitioning into a nursing career possible. Baylor's online ABSN is designed for students without healthcare experience who want to seamlessly transition to their new role. 
Our online ABSN program is academically robust, preparing students for nursing excellence and graduation in just one year. Students will experience the following: 
An intensive accelerated nursing program, which is an immersive one-year period of online education that prepares students for a career in health care with clinical placement services and student support coaching
Hands-on preparation for the licensure exams and the workforce
A strong reputation among employers giving graduates an added advantage when applying for jobs after the completion of their education
Click here to learn more about Baylor's ideal ABSN student. 
How can I successfully transition to an ABSN program?
If you already have a bachelor's degree in another field, we encourage you to fill out our contact form, read through our online ABSN program brochure, and reach out to one of our helpful enrollment advisors. 
Baylor's online ABSN program will prepare you to become a nurse and graduate in as little as one year. It is designed to expedite the process and allows students to quickly and seamlessly join the nursing workforce. 
Our dedicated team of enrollment advisors is available to answer any questions you have, walk you through our program requirements, make sure Baylor is a good fit for you and discuss your goals about nursing in general.
Ready to fulfill your calling as a nurse? Learn more.