What to Look for in a Nursing Program: 8 Tips if You Have a Degree in Another Field
Image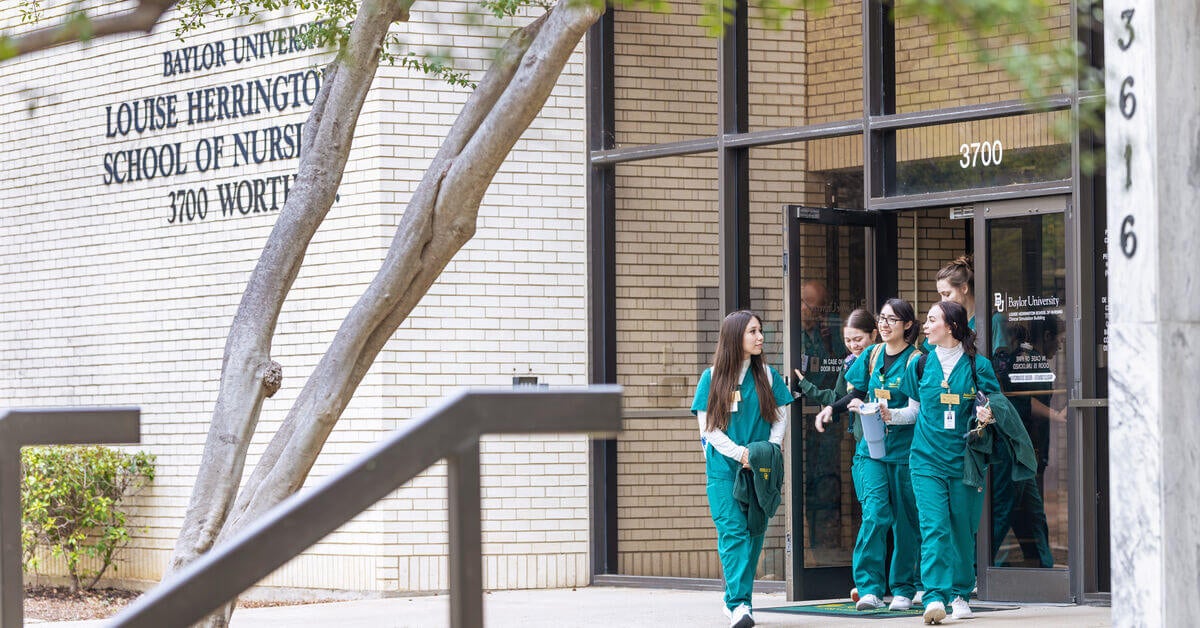 Do you want to become a nurse but have a degree in another field? As you research how to start a second career in nursing, you may wonder what to look for in a nursing program.
Most registered nurses (RNs) enter the profession with a Bachelor of Science in Nursing (BSN). Over 800 U.S. colleges and universities have BSN programs. With so many options, finding the right fit can feel overwhelming.
This blog post will help you gain clarity. Read on to learn how the nursing program you pick will shape your nursing career. Then consider the following eight factors as you explore your choices, including Baylor University's Distance Accelerated BSN (ABSN) program.
Does Where You Go to Nursing School Matter?
Where you go to nursing school does matter. Education is the beginning of your nursing career, so making an informed decision will affect your journey.
Your ideal nursing program should help you meet your personal and professional goals. Is having built-in support from faculty and staff a must? Do you need to finish your nursing education in a certain amount of time? Do you want the preparation to work with a specific patient population?
Only you will recognize which program is fit for you. When you know what to look for in a nursing program, you can be confident in your decision.
Accreditation
Make sure the nursing program has accreditation from a reputable organization. Accreditation is a process that recognizes nursing schools and programs for meeting specific quality standards.
These standards ensure graduates are prepared for professional licensure, employment, and advanced nursing education. That's why most state boards of nursing, nurse employers, and graduate nursing programs require RNs to hold a nursing degree from an accredited program.
Choosing an accredited nursing program also allows students to apply for federal financial aid.
Most U.S. nursing programs have accreditation from the Commission on Collegiate Nursing Education (CCNE) or the American Commission for Education in Nursing (ACEN). You can search for accredited nursing programs using the CCNE and ACEN online directories.
For example, the Distance ABSN program at Baylor University is CCNE-accredited. Baylor University has also been accredited by the Southern Association of Colleges and Schools Commission on Colleges since 1914.
BSN Pathway
A second consideration for what to look for in a nursing program is the pathway to earning a BSN.
Baccalaureate nursing education has two types of programs: the traditional BSN and the accelerated BSN (ABSN).
ABSN programs are designed for students with a bachelor's degree in a non-nursing discipline. They build on previous baccalaureate education, so students can dive right into the nursing curriculum. As a result, ABSN programs are significantly shorter than traditional BSN programs. You could earn a traditional BSN in four years and an ABSN in 11 to 18 months, including prerequisites.
Because of the condensed length, ABSN programs are rigorous. Students attend nursing school full-time without breaks between semesters. The benefit is that they can start their nursing careers earlier than traditional BSN students.
Efficiency is vital to second-career nurses like Ebony Crawford, a Baylor Distance ABSN graduate.
"I decided to enroll in Baylor's Distance ABSN program because I'm a mother of three," Ebony said. "The year-long program was the most appealing thing to me. I just have it in my mind, one and done. Get it done and over within that short period."
Baylor's Distance ABSN is an intensive full-time program that prepares students for a nursing career in under one year. It consists of 62 credits, with courses running for 3 to 10 weeks each.
If you want to start your nursing career quickly, an ABSN program may suit you.
Program Outcomes
Program outcomes refer to what a nursing program is intended to help graduates achieve. They're important to consider because they demonstrate how well a program prepares graduates for real-world nursing practice.
During your research, consider the following: 
Core competencies
Pass rate for the National Council Licensure Examination for Registered Nurses (NCLEX)
Job placement rate
Baylor Distance ABSN students emerge from the program as skilled nurses prepared to change the lives of others. The program integrates academic excellence with a Christian worldview, educating nurses for worldwide leadership and service.
NCLEX preparation is also embedded in the program, so students know what to expect on the exam. Baylor nursing students consistently have a first-time NCLEX pass rate much higher than the national average. Baylor nurses also have a bright employment outlook. Ninety percent receive a job offer upon graduation.
When choosing a nursing program, look for an institution with a record of positive student outcomes.
Cost
Cost is usually top of mind when considering how to choose a college.
Nursing education is an investment. The cost depends on many factors, like the degree type, credit hours, and financial aid.
Assessing all the related expenses is important. So is looking at the value. Understand how the cost of nursing education compares with the expected program outcomes.
For example, Baylor's Distance ABSN program is $68,100. But graduates are prepared to start their nursing career in under one year (45 weeks), so they can start earning an income faster than graduates of longer ABSN programs or traditional BSN programs.
Look for a nursing program that aligns with your finances while providing exceptional value.
Clinical Experience
Clinical experience is another category of what to look for in a nursing program.
All accredited baccalaureate nursing programs have clinical rotations. These hands-on experiences allow students to apply their knowledge and skills during real-world nursing practice.
The number of clinical hours required for nursing licensure varies by state, from approximately 300 to 600. Review the hours needed where you want to work and make sure the nursing program meets them. Baylor's Distance ABSN program features 720 clinical hours, above the standard.
Another tip is to find out which types of clinical settings the nursing program will expose you to.
Baylor's Distance ABSN students learn to care for individuals and families across the lifespan. They gain clinical experience working with diverse patients, including those with mental health and medical-surgical needs and underserved communities.
The best nursing program for you will offer clinical experiences that prepare you for professional licensure and match your clinical interests.
Clinical Placement Support
During clinical rotations, nursing students are supervised by an experienced RN called a preceptor. Sourcing clinical sites and preceptors can be taxing. A student could contact hundreds of sites before a preceptor agrees to participate.
Some nursing programs provide clinical placement support services to make the process easier.
In the Baylor Distance ABSN program, staff collaborates with students to help source quality clinical placements. Faculty also mentor students throughout each rotation. The benefit? Students can focus more on learning and less on placement paperwork.
Clinicals are essential for building nursing competencies. Choosing a program with built-in placement support will result in high-quality learning experiences.
Faculty
Faculty qualifications and dedication will make a notable difference in your education. An experienced, passionate faculty will guide and support you at every step.
But knowing what to look for in a nursing program's faculty can be difficult. Both CCNE and ACEN accreditation standards require nursing programs to have faculty that are:
Academically and experientially prepared for their roles and responsibilities.
Sufficient in number to enable the expected program outcomes.
Provided with opportunities for continuing education in teaching.
Nationally recognized faculty teach Baylor's nursing programs. They are researchers, authors, former missionaries and administrators, and experts in their specialties.
Baylor faculty also dedicate themselves to meeting students' needs.
Dana Salas, a student in the Distance ABSN program, said, "With the program director, professors, advisors, lab director, etc., I really feel like they want us to be successful. They are open and willing to help us in any way possible to help us meet our goals and succeed in the program."
Be sure the faculty in the nursing program you choose will advise and encourage you throughout your education.
Course Delivery
BSN programs offer courses on campus and online. Where do you want to complete your coursework? To answer that question, consider the day-to-day responsibilities you need to integrate with your nursing education.
For example, the Baylor Distance ABSN program is designed for students residing in Texas but outside the Dallas-Fort Worth metro area. Students complete all coursework online but participate in two on-campus visits. Clinical rotations also happen in person so that students gain hands-on learning.
An online nursing program is ideal if you want the variety that comes with a mix of virtual and in-person learning.
Is Baylor's Distance ABSN Program the Right Fit for You?
Making a well-informed decision about choosing a nursing school will help you find success in your education and beyond. Now that you know what to look for in a nursing program, it's time to consider your options.
If you are ready to transition into a rewarding nursing career, consider Baylor's Distance ABSN program.