Five Benefits of Faith-Based Nursing
Image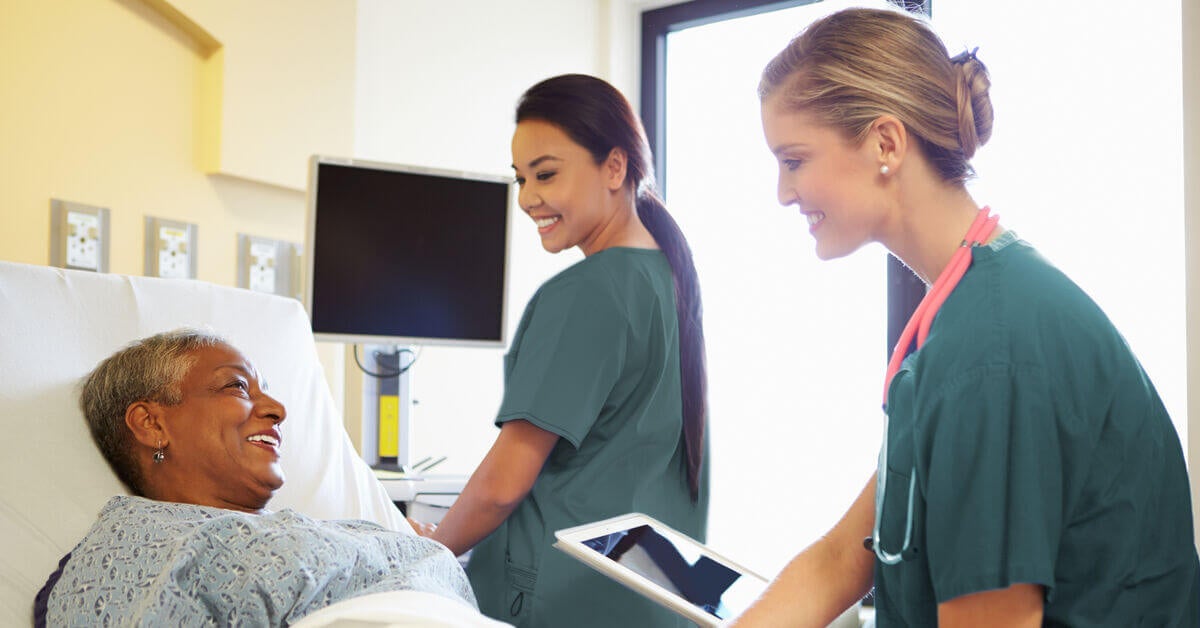 Faith-based nursing is the intentional merging of healthcare and religion for patients and families. This type of nursing care is a specialized approach requiring clinicians to be inclusive of religious beliefs and trained to include faith as a central component of nursing interventions and care plans. You may be an aspiring nurse who has personally been influenced by a meaningful merger of faith and practice.
Read on to learn how you can become a second career nurse and allow your faith to be an essential component of the care you deliver.
What is Faith-Based Nursing? 
Faith-based nursing is sometimes called faith community nursing or parish nursing and can be delivered within the context of specific faith traditions. What differentiates faith-based nursing from non-religious nursing is the incorporation of faith into nursing practice, factoring in the mind, body, and soul when tending to a patient's health and well-being. Nurses who deliver faith-based nursing are often part of the faith community or religious belief system in which they provide this type of specialized healthcare.
Benefit #1: Faith-Based Nursing Fosters Meaningful Connections 
According to a 2020 report by the Public Religion Research Institute (PRRI), approximately 70% of Americans (or 7 out of 10 individuals) consider themselves religious within the Christian context. These individuals may benefit from the personal connection of nurses who share a similar faith. These connections can help patients through their illnesses and provide support to reduce anxious feelings and foster hope amid difficult medical situations within the specific context of their faith.
Benefit #2: Faith-Based Nursing Encourages Fulfilling Careers
A 2022 study regarding the impact of nurses' spiritual and religious beliefs on mental well-being showed a positive association of these beliefs with personal accomplishment. If faith is an important part of your life and you are thinking about a nursing career, faith-based nursing may be a fulfilling and purposeful path forward for your future. There are several options for where you can work as a faith-based nurse, including clinical and non-clinical roles.
Benefit #3: Faith-Based Nursing Applies in Multiple Job Settings
Florence Nightingale is often credited as the founder of modern nursing and was known for her roles in faith-based nursing. When she first began to understand the path her life would take, Nightingale wrote, "God has spoken to me and called me to His service." Throughout nursing history, religious philosophy and faith in God have motivated nurses to follow the profession as a calling. 
Faith-based nursing has applications in many clinical settings in which the nursing care centers around religious faith and purposeful practice of what is deeply important to the patients and families receiving care. Work locations for faith-based nursing are widespread. Some examples include: 
Traditional hospitals
Primary care and specialty clinics
Religious institutions 
Missionary roles
Faith-based schools including higher education
Holistic nursing care is at the foundation of faith-based nursing which recognizes the importance of respecting and prioritizing religion and spiritual beliefs in the context of life and health. 
Benefit #4: Faith-Based Nursing Integrates Beliefs in Practice
Regardless of the work setting, faith-based nursing care has benefits. In more traditional medical settings, therapeutic relationships with patients and families can be tailored to their spiritual and religious preferences. For example, patients with a terminal illness and an expected prognosis of six months or less to live are eligible for hospice care. In these situations, a goal for health care is often laced with the importance of life closure, with patients and families seeking to answer personal faith questions and embrace their beliefs as comfort through the end of life. 
Benefit #5: Faith-Based Nursing Promotes Holistic Care
In faith-based nursing, there is a focus on holistic caretaking of the mind, body, and spirit in an environment of inclusion and hospitality that welcomes individuals of all beliefs and backgrounds. Faith community nurses often work in interdisciplinary teams that may include chaplains, social workers, medical personnel, and other types of clinicians. 
An individual's religious beliefs can impact their healthcare in numerous ways, and sensitivity to this issue is a necessary component of conscientious care. Parish nurses can also work with underserved populations, focusing on the social determinants of health and increasing access to healthcare.
Baylor University's Christian Commitment
Founded in 1845 by Baptist pioneers, Baylor University continues to believe in the importance of faith formation as a part of a student's educational experience. This Christian commitment means the University invests in the lives of its students and their unique response to their calling. Through mentorship opportunities, student support services, student organizations and more, Baylor provides an environment through which students thrive as they live out their faith through nursing as their chosen profession. 
Baylor University student Saraya Tiner speaks about her religious beliefs as one of the foundational reasons for her choice to enroll in a faith-based nursing program: 
"I wanted to become a nurse after volunteering at Baylor Scott & White in College Station. I just saw how hard the nurses were working to serve others, and I knew that I wanted to help others live happier healthier lives. 
And also, being a Christian, I feel called to serve others. I feel like it's a good way to serve God, so I decided to pursue nursing halfway through my public health degree."
Become a Faith-Based Nurse at Baylor University Online
If you are looking to leverage your current Bachelor's degree in any field as the foundation for a future in nursing, Baylor University Online may be an excellent fit for your goals. Students can become practice-ready nurses with a Christian worldview as they are prepared to serve as trusted resources in their professional environments.
Baylor University Online offers a Distance Accelerated Bachelor of Science in Nursing (ABSN) program that can be completed in a one-year timeframe so you can join the nursing workforce more quickly than through other programs. As a student in the program, you gain clinical experience working with underserved communities, aging populations, children's health and more so you can change your life and the lives of others in positive, meaningful ways. 
Highlights of the Baylor University Distance ABSN program include:
Innovative, online coursework
Two on-campus visits for immersive learning
Clinical experiences
Nationally recognized faculty
Accredited by the Commission on Collegiate Nursing Education (CCNE)
Clinical placement services are offered to help students focus on their studies while ensuring clinical experiences that prepare students for meeting program outcomes for real-world practice and potential future employment. 
The blend of faith-based principles and academics makes Baylor University an excellent choice for those who feel called to serve others and want to move quickly into nursing as a second career. 
For more information about this exciting program, visit the website to find out if you qualify for enrollment and access your program guide today.