Everything You Need to Know About National Nurses Day
Image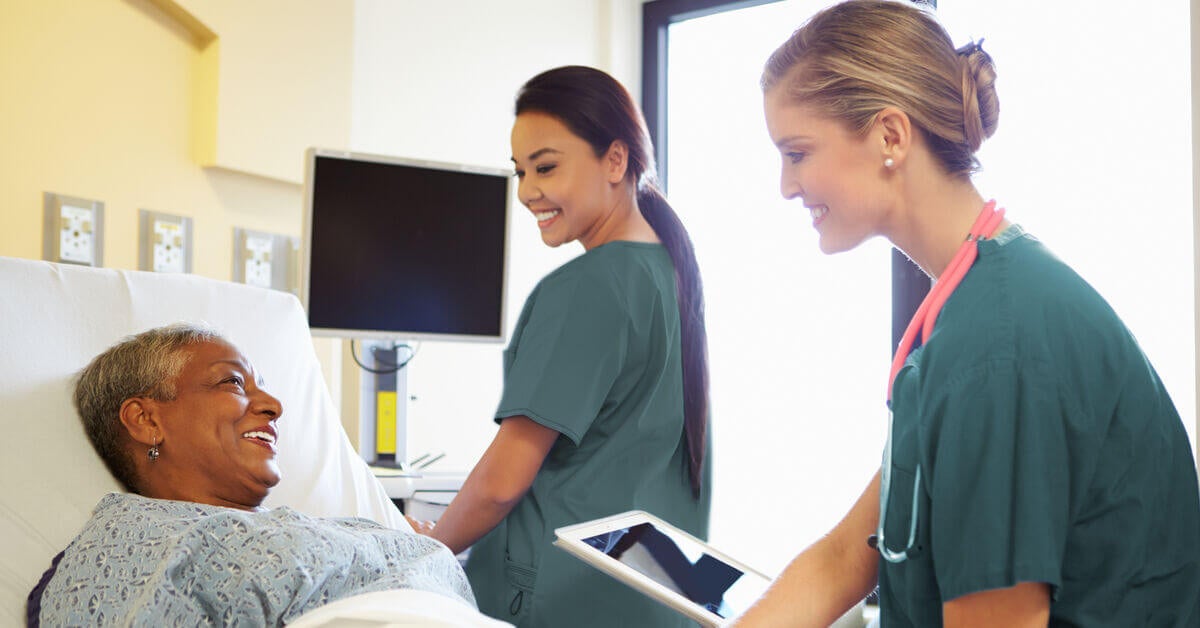 May 6 is National Nurses Day, an annual opportunity to appreciate the nurses in our lives and remind ourselves of the innumerable ways they contribute to our health and the well-being of those we love. People have celebrated nurses for decades, but it wasn't until the 1980s that the United States honored these integral healthcare professionals with their own day of recognition. National Nurses Day is the first day of National Nurses Week, which takes place from May 6-12 each year and concludes on International Nurses Day, the birthday of Florence Nightingale.
The effort to establish a day of recognition for nurses stems back to the 1950s, when an employee of the U.S. Department of Health, Education and Welfare, Dorothy Sutherland, sent a proposal to President Dwight Eisenhower to make a proclamation for a nurses day in October. Eisenhower never fulfilled the request, but soon after, Frances P. Bolton, a member of the House of Representatives from Ohio, sponsored a bill for the creation of a nurses week. The bill never passed. About 20 years later, the House proposed a national nurses day, which President Richard Nixon did not accept. But, later in his term, Nixon proclaimed the creation of National Nurse Week. 
The first state to recognize May 6 as Nurses Day was New Jersey, which celebrated the day for the first time in 1978. A few years later with the backing of nursing organizations, New Mexico Representative Manuel Lujan, Jr. put forth a resolution to celebrate May 6 as National Recognition Day for Nurses. The following year, President Ronald Reagan made the proclamation confirming the resolution. 
Honoring Our Nurses. Celebrating Nurses Month 2023
Why Celebrate Nurses?
Nurses have made some of the most impactful contributions to medicine throughout history, but even those whose names are not as well known have left a mark on their patients. Nurses make up nearly half of the global healthcare workforce. They are often the first to deliver care to patients and sometimes the sole providers of healthcare in certain settings. During the COVID-19 pandemic, nurses have sacrificed their physical and mental health to save lives and in many cases, help patients and families cope with the devastating trauma of death in isolation. Throughout it all, they have worked steadfastly through personal protective equipment shortages, evolving policies, and infection surges. They have continued to give their best even as the communities they serve have, in some cases, become defiant against health measures.
Although nursing is an occupation, for many it is also a vocation. For all the passion nurses put into their work and the compassion they show their patients, National Nurses Day is a way for everyone to express their appreciation for the incredible job nurses do.
How to Celebrate National Nurses Day
You don't have to be a nurse or even know one to celebrate National Nurses Day. Everyone who lives in a society with nurses benefits from their work and has reason to celebrate these incredible caregivers. Thanks to nurses, we experience comfort, compassion, and expert skills when we need it most, and we can be assured that our loved ones are cared for when they need medical attention. 
Learn more about Baylor's Distance ABSN program
For the Nurse(s) in Your Life
If you are not a nurse and want to show your appreciation for nurses on National Nurses Day, there are plenty of ways to express your gratitude. Here are some ideas:
Send a note. Write a personal thank-you card for a nurse in your life. It could be a friend or relative, or it could be a nurse who cared for you when you were in the hospital or at your last doctor's appointment.
Make a care basket. Nurses who have been working through the COVID-19 pandemic are facing high stress and burnout levels. A thoughtful selection of self-care items can be a great way to say "Thank you" and encourage them to refocus on their own physical and mental health. Some self-care essentials you might include could be:

Aromatherapy products (lotion, soap, incense, candles, or diffuser oils)
A subscription to a meditation app
Healthy snacks or gourmet coffee and tea
A gift certificate for a spa or yoga class
Moisturizing gloves or socks to wear overnight

Order lunch. Prepare food, order pizza, or buy lunch for a nurse or nurse team. Check with your local hospital, doctor's office, or other healthcare facilities first to make sure it's OK and to check for any allergies.
Show support. Donate to a nursing school or scholarship fund. Nursing shortages put tremendous pressure on working nurses. Helping aspiring nurses fill the talent gap is a great way to show your support.
Fundraise for nurses. There are countless fundraisers to choose from that benefit nurses on the job. You can find one that resonates with you or speak with your local healthcare facility about their nursing needs and start a fundraiser yourself.
Donate blood. One of the hardest parts about being a nurse—especially in emergency or trauma settings—is the inevitable fact that not every patient can be saved. Donating blood is a great way to give someone else a chance at recovery, and it could save someone's life.
For Yourself
If you're a nurse, a nursing student, or an aspiring nurse , you can still do any of the activities listed above. But be sure to take time to celebrate yourself as well! No one deserves it more than you.Here are some ways to celebrate yourself:
Catalog achievements. Make a list of your accomplishments. With the fast pace of nursing, it can be easy to overlook the many accomplishments you tally each day—whether it be the patients whose lives you've saved, the credentials you've earned, or even the people you've inspired. Taking time to catalog all you've achieved can remind you of your worth and give you a confidence boost.
Pamper yourself. Treat yourself to a massage or a day of pampering. Even making time for exercise, walking in nature or meditation can go a long way in reducing stress, boosting your mood, and helping you prioritize your health.
Inspire others. Become a nurse mentor. You can work with your employer or your alma mater to find opportunities to mentor aspiring or younger nurses. Giving back to your profession is both rewarding and helps you grow as a professional. You can also look for opportunities to assume new leadership roles within your job.
Invest in yourself. If you've been considering going back to school or earning a new certificate, make this Nurses Day the day you submit your application. Advancing your career is one of the best ways to celebrate yourself and reach your full potential.
Celebrating Nurses Every Day at Baylor University
As the No. 1 Best Accredited Nursing School in Texas (nursingprocess.org), Baylor University is committed to celebrating nurses by educating students with a rigorous curriculum that prepares them for the challenges of a fast-paced and evolving healthcare field. 
At Baylor, we honor nurses year-round. Our post-baccalaureate Distance Accelerated Bachelor of Science in Nursing (ABSN) program helps aspiring nurses get the training and clinical placement they need to enter the workforce and begin making a difference in their communities in about 45 weeks. Bachelor's degree holders with no nursing experience who are looking to make a career change to nursing will find flexibility and support with Baylor's hybrid learning model and faculty mentors. 
If you're ready to join the ranks of nurses the world over who stand at the front lines of healthcare every day, see what Baylor has to offer and how it can help you reach your goals.