Clinical Placement Support
At the Louise Herrington School of Nursing, we collaborate with you for clinical placement so you can focus more on the integration of faith and academic excellence as a Baylor Nurse.
Clinical placement is the required clinical education component of Baylor University's Online Doctor of Nursing Practice program (DNP) and the Distance ABSN program. Clinicals work closely with the classroom-based coursework to prepare you for your future providing primary care in the field. 
Baylor University's Louise Herrington School of Nursing believes you are only as successful as your training, which is why we collaborate with students to identify and secure clinical sites and preceptors for all clinical rotations. This enables you to focus on coursework and developing core competencies rather than spending a significant amount of time on the logistics of clinical placements. However, if you already have a placement site or preceptor in mind, students are encouraged to refer them to the placement team to secure. Additionally, you may find clinical placement sites to be potential locations for future employment opportunities upon graduation.
Shortly after enrollment, you will be provided with a placement intake form you are required to complete that captures your competencies, experience, and placement preferences. 
Baylor University will collaborate with you to identify a quality placement site and preceptor. While the placement team is securing sites and preceptors, you will be responsible for completing clinical clearance requirements in preparation for placement, including:
Drug screening
Background check
Recommended vaccinations
You will not be permitted to begin your placement rotations without your clearances complete. Once the sites have been approved by the School of Nursing, Baylor University will share the placement site details with you prior to placement.
During the placement experience, you will have access to faculty and other resources. Faculty will be available to mentor and support you throughout the rotation if there are any specific questions about procedures, patient interactions, and general proficiencies. At the end of the placement rotation, you and your preceptor will review requirements, complete surveys and officially end the placement rotation. If you have multiple rotations, you will receive the next preceptor/site details.
 Be Bold. Be Decisive. Be Exceptional. Become a Baylor Nurse.
Image
We rigorously adhere to the accreditation standards established by the Commission on Collegiate Nursing Education (CCNE)**.
Image
Featured in U.S. News & World Report for the 2023-2024 Best Nursing Schools.
Image
Carnegie Classification of Institutions of Higher Education awarded Baylor University the R1 Status
Image
Nursingprocess.org ranked Baylor as the #1 Best Nursing School in Texas.
Baylor nurses are very caring, careful and detail-oriented. Learn, Lead and Serve; that's definitely what Baylor University is all about.
Mariah Sauceda | Distance ABSN Student
Image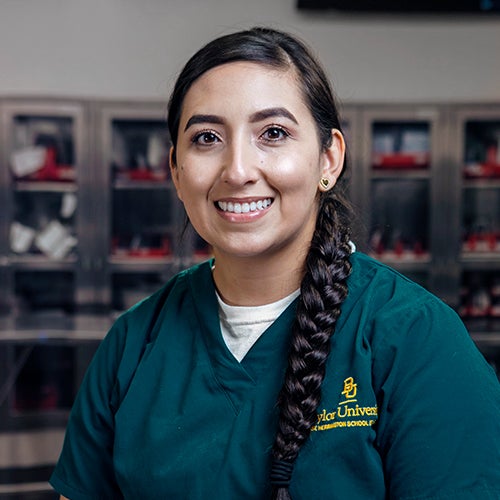 When you have a professor like Dr. Killingsworth who's able to really harness the technology, it makes for a really great experience.
Abagael Slattery | DNP Nurse-Midwifery
Image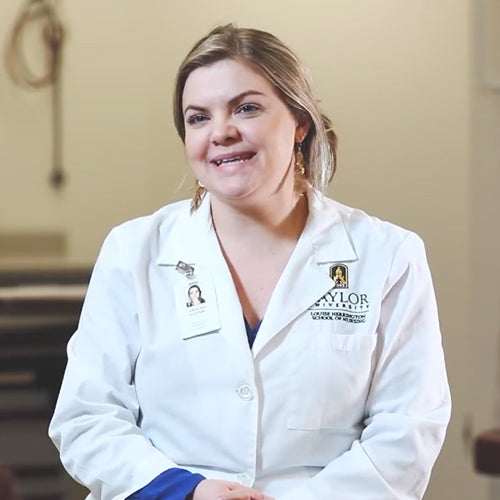 I knew Baylor was the right fit for me because they are holistically training providers in leadership, policy change, and preparing them for the entire role.
Rachel Carmichael | DNP-FNP
Image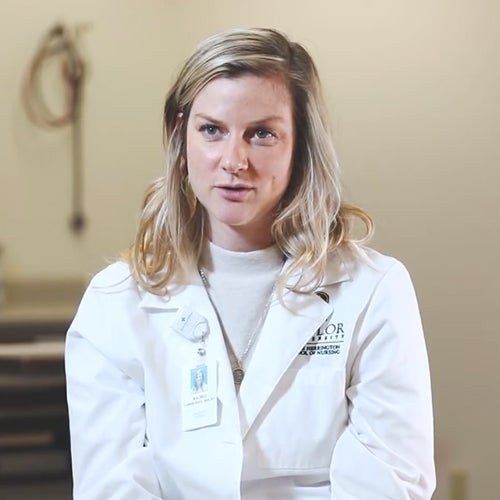 Gain the Distinction of Being a Baylor Nurse
Discover what makes Baylor University a highly respected leader in advanced nursing education.
Online Coursework
Placement Support
CCNE Accredited
Why Choose Baylor University Online
---
Welcome to the Baylor University Louise Herrington School of Nursing, a faith-based community with over 111 years of dedication in making a real difference in the world through the care and healing of others.
We think you will find our school is unlike any other in that we truly do consider ourselves called to prepare nurses through the integration of faith and excellent academics. Our caring faculty go above and beyond to help you succeed and develop as a professional nurse so that you can help others far into the future. All in all, this special calling to serve others through academic excellence results in qualities that are unique to a Baylor Nursing graduate—qualities that are instantly recognized and appreciated by patients, employers, and the community and exemplified in our school motto: Learn.Lead.Serve.®
*The Baylor University Louise Herrington School of Nursing midwifery program is accredited by the Accreditation Commission for Midwifery Education (ACME), 8403 Colesville Road, Suite 1550, Silver Spring, Maryland 20910-6374; for information about accreditation please contact ACME directly. Tel. 240-485-1802, acme@acnm.org, www.midwife.org/acme
**The baccalaureate degree program in nursing and Doctor of Nursing Practice degree program at Baylor University are accredited by the Commission on Collegiate Nursing Education, 655 K Street, NW, Suite 750, Washington, DC 20001, 202-887-6791.
The DNP program of study conforms to the educational guidelines for the state of Texas and the National Task Force Criteria for Nurse Practitioner Programs.