MSN vs DNP: Comparing Differences Between The Two Degrees
Image
A Master of Science in Nursing (MSN) and a Doctor of Nursing Practice (DNP) are both graduate nursing degrees; however, the differences between them involve the required length of study and personal career goals. Both degrees will prepare the nurse for an advanced practice career, and provide opportunities for other roles including faculty nurse educator and leadership positions. The DNP is a terminal degree preparing registered nurses for advanced practice roles with additional emphasis on nursing leadership/administration, and analysis of evidence-based research for application into practice.
Nursing is a career that can lead to many opportunities with the right education. Some nurses begin in a diploma program, others obtain an Associate Degree, and some choose to invest in a Bachelor of Science in Nursing (BSN) degree right from the start. The evolving healthcare system demands the highest level of scientific knowledge combined with expert practice for optimal patient outcomes. Whether practicing as an essential BSN-prepared bedside nurse or seeking to pursue higher education, nurses can have a significant impact on high quality and safe patient care. Advanced nursing education is becoming more and more desirable since many nurses are seeking a career with greater influence and autonomy. If you are wanting to advance your degree, which will be most beneficial or applicable to your goals as a nurse?
What is the difference between an MSN and DNP? Continue reading to learn more about each degree and the programs offered by Baylor University. 
Learn more about Baylor's Online DNP programs
Benefits of an MSN Degree
A Master's Degree in Nursing (MSN) opens the door to new opportunities for nurses in various settings. Based on the MSN degree pursued, the nurse's role is more advanced and specialized, and comes with greater responsibility. 
The MSN-prepared nurse can pursue multiple career paths allowing the nurse to seek a degree in something they are passionate about.
Certified Registered Nurse Anesthetist (CRNA)
Nurse Practitioner
Nursing Leadership
Nurse Educator
Clinical Nurse Specialist
Nurse Midwife
Your degree directly influences your role as an MSN-prepared nurse. A nurse practitioner's education prepares them to assess, diagnose and treat the patient through pharmacological and non-pharmacological measures. Practice is specific to certification in areas such as family practice, psychiatric mental health, pediatrics, and adult gerontology. And while education prepares the nurse practitioner for clinical independence, scope of practice as prescribed by state boards of nursing determine the level of autonomy, which includes the ability to prescribe medications and treatment options for their patients.
The average MSN program takes 2-3 years of full-time coursework, which will include practicum hours. Coursework includes advanced nursing theory, management, research, social sciences, physical science, clinical practice, nursing informatics, and advanced nursing theory. 
Image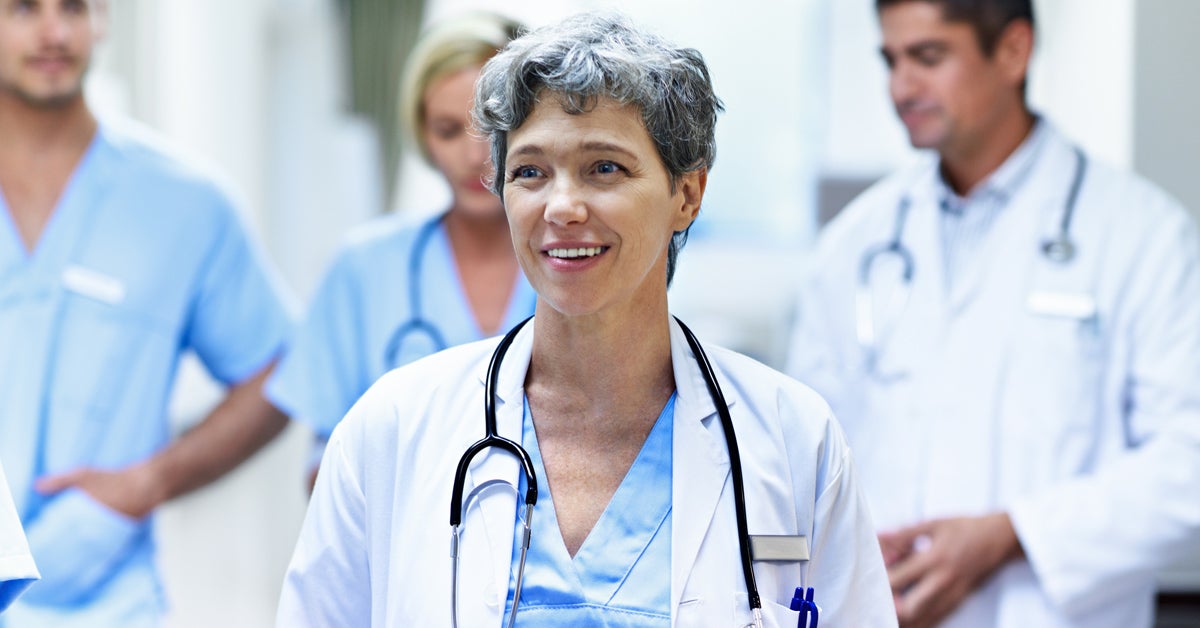 Why A Doctorate?
The DNP is the pinnacle of nursing degrees, and graduates are well-equipped to bring the science and art of nursing to current practice. It is one of two terminal degrees for nurses. While an MSN requires a two- to three-year commitment beyond BSN preparedness, the DNP adds additional year(s) of education, preparing nurses for leadership positions. DNP curriculum builds on traditional master-level programs by including evidence-based practice, systems leadership, and quality improvement coursework. The American Association of Colleges of Nurses (AACN's) Position Statement called for nursing leadership to have a base doctoral degree for all candidates.
Nurses stay on the frontlines of patient care and are at the leading edge of healthcare advancement. Nurses comprise the most substantial number of healthcare professionals, and their collective voices and expertise are essential in providing high-quality care and keeping healthcare patient-centered.
Less than 1% of nurses in the United States have completed doctoral-level education, and when looking at APRNs, only 14% hold a DNP. In 2018, the National Organization of Nurse Practitioner Faculties (NONPF) called for the DNP to be the entry degree for nurse practitioners by 2025. The Council on Accreditation of Nurse Anesthesia Educational Programs (COACRNA) supported the requirement of the DNP for CRNAs by 2025, and by 2022 if starting a CRNA program, requires entry into a doctoral program. As of June 2022, the AACN recommends and supports the DNP as entry level for advanced practice nurses.
Many healthcare professions are moving toward obtaining a doctorate before starting practice. The doctorate expands on knowledge acquired at the BSN level and builds on the MSN curriculum to develop highly qualified and competent providers in specific fields. Other healthcare professions that already offer or require practice doctorates include the following:
Medicine (MD)
Dentistry (DDS)
Pharmacy (PharmD)
Psychology (PsyD)
Physical Therapy (DPT)
Audiology (AuD)
Learn more about Baylor's Online DNP programs
Nursing as a profession continues to aspire to excellence, and that is ultimately the transition to the DNP for leadership, educators, and innovators, whether as a Family Nurse Practitioner, Neonatal Nurse Practitioner, Pediatric Nurse Practitioner, Adult-Gerontology Acute Care Nurse Practitioner, or Nurse-Midwife.
Healthcare is a whirlwind of change on even the calmest days. The nursing and physician shortage and an aging baby boomer population, compounded by health care reform have contributed to the need for advanced practice nurses.
Baylor University has an online DNP program that offers flexibility while achieving a terminal nursing degree. 
The Need for Highly Qualified Nurses at All Levels 
Advanced Practice Registered Nurses (APRNs) are in demand, including those with an MSN or DNP. The Bureau of Labor Statistics reports the projected job growth for APRNs is 40% based on multiple factors. This projected job growth is excellent for the MSN- or DNP-prepared nurse, as it creates more opportunities for career growth. The predicted physician shortage in primary and specialty care, and the aging and growing population indicate a strong need for APRNs. There is also a shortage of nursing faculty to teach in undergraduate and graduate programs—which may limit the number of students a program can admit. APRNs with an MSN or DNP can become faculty for nursing programs as either full-time or adjunct nurse educators, helping sculpt future nurses in our country. 
Obtaining an MSN or DNP in nursing will lead to a higher salary, and the earning potential between the degrees is very comparable. The average annual salary for an advanced practice nurse is $123,780. While the salary is similar between the two degrees, the DNP degree may provide more opportunities in leadership and prove more competitive in the career search. 
Nurses committed to advocating and representing the nursing profession must look to the future and commit to learning what is necessary to lead the charge.
Interested in Advancing Your Nursing Degree?
After reading the above, which pathway is right for you? Both provide advancements in your career, salary, and opportunities. With the DNP, which is a terminal degree, there are more opportunities for executive leadership roles, nurse faculty roles, and healthcare advocacy programs in the clinical setting, hospitals, and throughout many organizations. 
Although 2015 has come and gone, the AACN's position on the DNP as the entry level for advanced practice nursing has not changed. 
For those interested in an online DNP degree program, Baylor University offers two options — a BSN to DNP, which involves three years of study, or a Post-Master's degree which can be completed in even less time.