Baylor University Is One of America's Top 'Great Colleges to Work For' for The Eighth Consecutive year
Image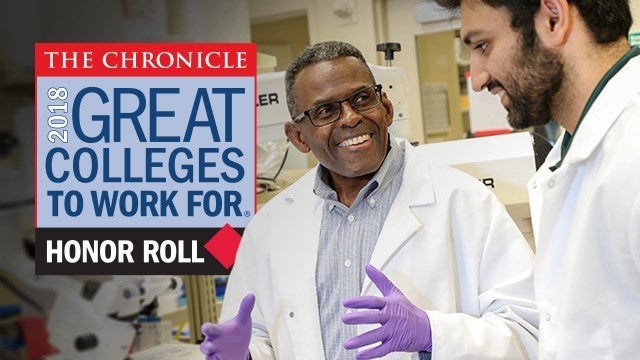 Baylor University has ranked among the nation's 'Great Colleges to Work For' for the 8th straight year. The ranking followed a survey of 253 colleges and universities by the Chronicle of Higher Education, a top trade publication for colleges and universities. Baylor also earned elite Honor Roll status for 2018, a distinction that it received fro the 7th time.
Only 84 institutions in the country received the "Great College to Work For" recognition. 42 of them won for excellence in their size categories. Baylor falls under the large university category with over 10,000 students.
Baylor is also one of the ten large four-year universities nationwide to earn elite Honor Roll status. The survey revealed Baylor's outstanding contribution to society in creating an industry-ready workforce.
The Great Colleges to Work For survey is one of the most comprehensive workplace annual studies in higher education. It is notable for its methodology which recognizes the colleges that get top ratings from their employees on workforce practices and policies. Over 50,000 faculty and staff members across the country have been interviewed during the process.
The survey had a two-part assessment process:
An institutional audit to capture demographics and workplace policies.
A survey of faculty, administrators, and professional support staff.
Employee feedback formed the primary factor in the decision-making process. Baylor University employs close to 3000 people. It ranked high in employee satisfaction which is an excellent indicator of organizational success. Faculty and staff make up the Baylor family along with students and alumni. The fact that they love working for Baylor explains why it has remained a top choice for students for years.
There are 12 different categories that help tabulate the results of the survey for the honor roll. Baylor was recognized for excellence in 11 of them. These included teaching environment, confidence in leadership, job satisfaction and work/life balance. A closer look:
Collaborative Governance: Where faculty members get involved in decisions pertaining to academic programs.
Compensation and Benefits: Excellent benefits and pay structure.
Confidence in Senior Leadership: Leaders have the skills, knowledge, and experience for institutional success.
Facilities, Workspaces, and Security: Facilities have a pleasant ambiance and are secure.
Job Satisfaction: Meets the criteria of a good fit, good work culture and resources.
Professional/Career Development Programs: Employees get ample opportunities to upgrade their skills and advance in their careers.
Respect and Appreciation: Employees are respected and recognized for their contributions.
Supervisor/Department-Chair Relationship: Supervisors create a positive and collaborative work atmosphere.
Teaching Environment (Faculty only): An atmosphere that fosters innovation and high-quality teaching.
Tenure Clarity and Process (Faculty only/four-year colleges only): Requirements for tenure are clear.
Work/Life Balance: Employees enjoy a good work-life balance for a sustainable career.
The Chronicle worked with the strategic human capital consulting firm ModernThink LLC to conduct the survey and analyze the results.