Grace Glendinning shares her experience as an *Online Master of Nursing in Leadership and Innovation student in this short testimonial.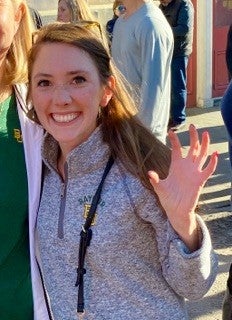 Gracie Glendinning BSN, RN
Nursing Supervisor, Baylor Scott & White Institute for Rehabilitation
I had the opportunity to care for one of my undergraduate professor's husband. The situation made me feel like my nursing practice had come full circle. I received the report on my new admit, saw the last name, and didn't think twice about it. My patient arrived and when I rounded the corner to see my professor standing there at the bedside I'm sure I looked like a deer in headlights. We both burst with excitement and hugged!! In my head, I was thinking oh Lord help me! I felt so nervous, not because of the patient or the diagnosis, but because here was my professor! But, I could tell my professor was stressed.
I started to ask the admission questions and talk about the nursing interventions we would be implementing. My professor smiled as she said she had mentioned these concerns previously but they had not been addressed.
She went on to tell her husband "that's how you know she is a Baylor nurse." As my professor was leaving, she seemed relieved and told me "I know I don't have to worry because you're here." My heart wanted to explode. I walked into her class knowing nothing about nursing. Yet, here she was putting her full trust in me to care for her husband.
I became a nurse after my dad suffered a massive stroke. He was in the Neuro ICU for almost a month, then proceeded to move to LTACH, to a rehabilitation hospital, and finally to a Neuro transitional unit. My dad is my family's miracle man and on my worst days, I remember the journey we all went through to get him home.
*Online Master of Nursing in Leadership and Innovation program is no longer accepting applications.